Invisalign® Clear Aligner Therapy in Jonesboro, AR!
Are you dreaming of a straighter smile but unsure where to begin? Let our experienced team assist you! Our practice has helped many patients achieve their dream smiles using Invisalign clear aligner therapy. To learn more about our services or schedule your consultation, please contact us!
Schedule Consultation
How Invisalign Works:
Three Simple Steps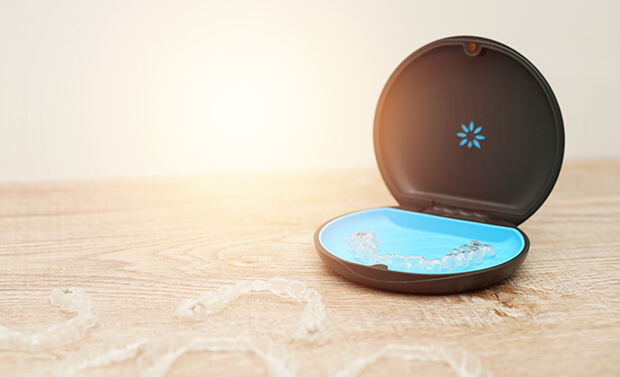 Step One: Schedule Your Free Consultation
Whether you've just started considering clear aligner therapy or you're totally confident that you want to pursue orthodontic treatment, our team offers complimentary consultations to help patients learn more about the treatment process. We will review many different factors, including your lifestyle, budget, preferences, and needs to determine if Invisalign is the right choice for you.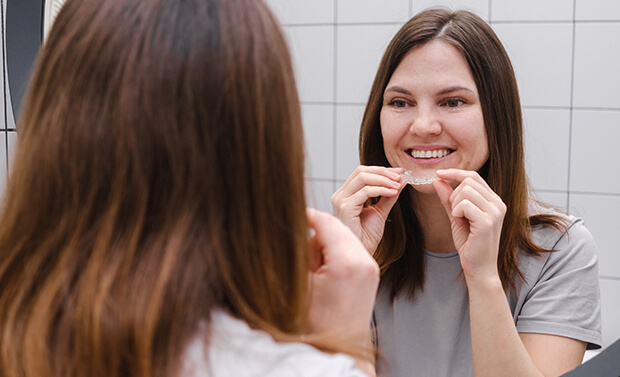 Step Two: Begin Your Treatment
The next step in the process involves taking digital impressions of your teeth to design your treatment plan and create custom clear aligners. Our high-quality iTero® scanner captures images quickly and effectively, eliminating the need for messy dental putty. Once your first set of aligners is ready, we'll have you try them on. After any necessary adjustments, you can start wearing your aligners! To keep your treatment plan on track, you should plan to wear your aligners around 20 to 22 hours per day.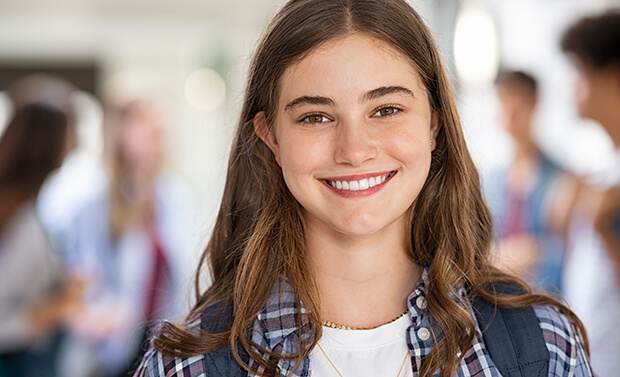 Step Three: Show Off Your New Smile!
Unlike traditional braces, clear aligners don't involve a dramatic reveal once treatment is complete because they are completely clear and practically invisible on the teeth. However, the joy of removing your aligners for the last time and revealing a perfectly straight smile is unmatched! To maintain your new smile, we will create custom retainers for you to wear at night.
Treatments starting as low as $99/Month!
For more information, please call 870-201-8863.
Invisalign Success Stories
We've helped many patients achieve straight, beautiful smiles quickly and effectively—but don't just take our word for it!
Frequently Asked Questions
How much does Invisalign cost?
The cost of Invisalign varies depending on a variety of different factors, such as how many aligners are required and how many appointments need to be scheduled. During your consultation, our team will provide you with an accurate estimate.
What can I eat with Invisalign?
Invisalign has no food restrictions! Simply remove your aligners before eating, brush your teeth or rinse your mouth, and then place them back in.
Who is not a good candidate for Invisalign?
Invisalign is an excellent choice for many patients; however, responsible aligner wear and care are crucial. In rare cases, patients with severe orthodontic issues may not be suitable for clear aligner therapy.
How many appointments will I need?
With Invisalign, patients typically need orthodontic visits every few weeks to receive their new set of aligners. Our team will monitor your progress and address any questions you may have.
What if I've already had braces or other types of dental work?
It's not uncommon for patients to pursue Invisalign when they already wore braces or clear aligners previously. Invisalign can work well for patients who had straight teeth in the past and want to straighten them again.
Why should I feel confident about the Invisalign process?
Invisalign has been helping patients achieve straighter smiles for over 20 years, and it's the most popular choice for clear aligner therapy. You can rest assured that your family is in good hands at our office!
Can Invisalign correct bad bites?
Invisalign can be used to correct overbites and underbites, just like traditional braces. We can assess the alignment of your bite during your consultation to determine if your bite needs to be adjusted.
What is the best age to get Invisalign?
Invisalign can be a great option for patients as young as seven years old. While orthodontic treatment is most commonly associated with teenagers, it can work well for kids, teens, and adults alike.
What should I do if I damage an aligner?
Should one of your clear aligners bend or break, please schedule a visit with our team at your earliest convenience so that we may assist. If you cannot continue wearing your aligner, you can wear your previous set of aligners in the meantime.
Schedule Your Consultation