Back-to-School Dental Tips for Kids
August 31, 2019 7:10 am
---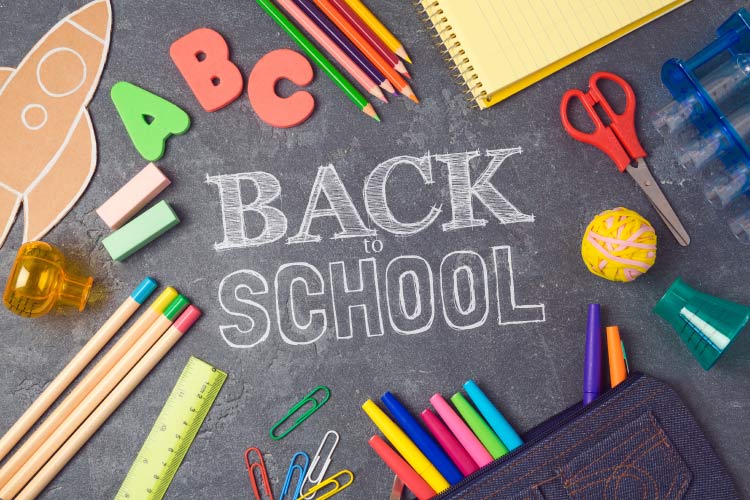 Whether your child is venturing off to school for the first time or moving up to the next grade level, their health should be top priority, and that includes their oral health, too. We've created a back-to-school dental checklist to help your kids enjoy a healthy, happy smile all year long!
1. Have Kids Brush Before Breakfast
When your child wakes up in the morning, make sure they gently brush their teeth with a fluoride toothpaste and soft-bristled toothbrush. Brushing before breakfast will help stimulate the production of saliva and may help protect their teeth from damage by acids and sugar in their meal. Additionally, drinking plenty of water after eating will help rinse their mouth, and chewing sugar-free gum for at least 20 minutes will help to dislodge any leftover food debris for a clean, fresh start to their day.
2. Pack Them Healthy Lunches
Packing your child a balanced lunch full of foods high in vitamins, protein, and calcium can give them the energy boost they need to stay alert during the day, as well as keep their teeth and gums in tip-top shape. We understand that it can be hard to get kids to eat enough portions of fruits and vegetables. Here are some of our favorite fun, tooth-healthy snacks that your child is sure to love:
Ants on a Log – Celery, Nut Butter & Raisins
Colorful Kabobs – Cubes of Cheese, Grapes, Blueberries & Strawberries on a Stick
Egg Salad BLT – Wheat Bread, Tomatoes, Hard-Boiled Eggs, Lettuce & Bacon
Hummus – Paired with Pita Bread & Veggies (e.g. Carrots, Bell Peppers, Jicama, Celery, etc.)
Turkey & Cheddar Rollup – Tortilla, Avocado, Turkey, Cheddar Cheese & Lettuce
3. Send Them to School with a Water Bottle
Drinking water is critical for kids' dental health and their overall health. If you're struggling to get your little one to drink water, try letting them pick out a fun water bottle in a color they love or with their favorite cartoon character on it. If they have a water bottle next to them, they'll be more likely to stay hydrated!
4. Get Your Child Fitted for a Custom Mouthguard
If your little athlete is involved in a sport—such as basketball, football, volleyball, wrestling, tennis, martial arts, or gymnastics–or another activity that may require contact with equipment, the ground, or other participants, it's important that their teeth and jaw are protected with a well-fitting athletic mouthguard. According to the American Academy of Pediatric Dentistry, mouthguards are crucial for safeguarding your child's smile during sports. We create custom athletic mouthguards that look like retainers (but thicker) and act as a barrier between your kid's teeth and anything that may collide with them, such as an elbow, racket, ball, shoulder, or head. While you can buy generic mouthguards from a sporting goods store, a custom-fitted mouthguard will fit securely and protect your child's teeth better than a stock mouthpiece or even a boil-and-bite mouthguard.
Kids' Dental Care in Jonesboro, AR
With these dental tips and tricks, we hope you can rest easy knowing that your child's smile is safe and healthy while they're learning and having fun. If your kiddo is overdue for their next dental checkup or you have any questions about your child's teeth or our back-to-school checklist, contact our office. One of our team members would be happy to speak with you!
Categorized in: Dental Tips, Kids Dental Care